Swimming
Swimming competitions are among the most popular in all of sport, with an enormous global fan base. Working closely with FINA, aquatic sport's governing body, Swiss Timing, and its sister company OMEGA have pioneered innovative timekeeping services, technologies, and equipment for pool and open water swimming events.
United Sports Services and Swimming
In the pools
Our services and technology meet the needs of the full range of swimming races contested in 25- and 50-m pools and in the open water.
To measure the time, a start system and finish detection system are required. The start, operated by an official (the starter), includes voice transmission to signal instructions to the swimmers and a start device to generate audible and visual signals. The start system distributes signals to multiple loudspeakers, counteracting any disadvantage due to the speed of sound across the pool.
Our familiar touch pads mounted on the wall in each swimmer's lane register a touch of between 1.5 and 2.5 kg anywhere on the pad's surface. This amount of pressure eliminates "ghost touches" resulting from water movement.
In the open water
For distance events, our Open Water Gate is set up at the beginning and the end of the race and in intermediate positions, making it possible for times to be measured, recorded, and displayed throughout the race. The gate positioned at the finish has touchpads with vertical transponder antennas while the ones in the intermediate positions have horizontal transponder antennas that pick up the signals "on the fly" from the transponders the swimmers wear on their wrists.
High-definition cameras mounted on poles that serve as a reliable backup system and are also used when athletes are too close in time and cannot be ranked by the transponder system alone.
Scope of Swiss Timing services
Timekeeping of competitive swimming events requires a number of different timing, data handling, and distribution services.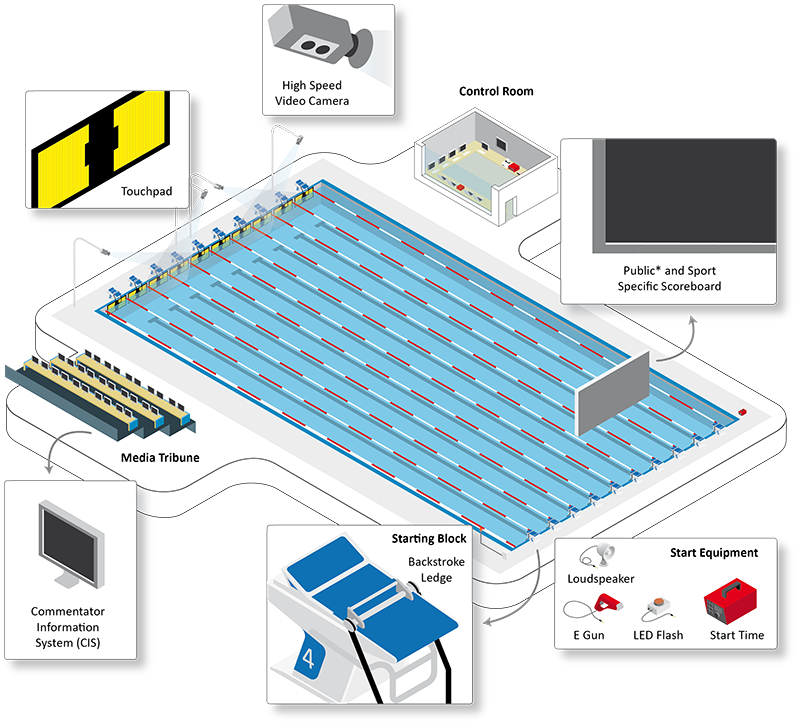 Products